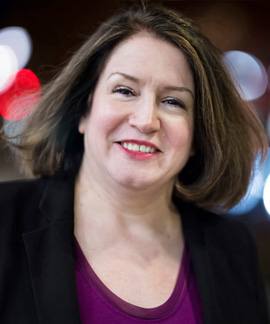 Award-winning actress Mary C. Ferrara caught the acting bug in her late 20s when she took an improv class on a whim. Along with being in several improv and sketch comedy troupes over the years, Mary has done several plays and has 100+ independent film projects to her credit. Some of her favorite roles include Barbara in August: Osage County, Helena in A Midsummer Night's Dream, Larissa in the web series Family Problems, Katie in the web series World's Worst Director, as the woman in the short sci-fi film The House, Candy in the web series Magicland, and Debra in the short film Cold.
She has trained at such notable places such as Upright Citizens Brigade, ImprovBoston, Improv Asylum, New Repertory Theater, Boston Casting, CP Casting, Company One, and the Oxford Shakespeare Company; and has received coaching from notable Boston-based actors such as Karen MacDonald, Paula Plum, Bobbie Steinbach, Dossy Peabody, and Lau Lapides, as well as from Steve Blackwood from Days of our Lives, Kevin McDonald from Kids in the Hall, NYC's Tom Todoroff, Rhode Island's Alessio Cappelletti, LA's Todd Stashwick from 12 Monkeys, and Tony Winner Michael Cerveris.
Mary has also worn different hats such as a producer, director, and writer. In early 2018, Mary formed her own production company called Call it a Whim productions where she wrote, directed, and acted in the short film "Schmoopie." It has won several awards on the festival circuit. Her script "Red Shirt" has gotten into several festivals as well as won awards; she hopes to produce it in 2024. Currently she's in post-production on a film that she produced, wrote and directed called "Wallie's Gals."
Wallie's Gals to premiere in 2023! Check out the Official Wallie's Gals Website for updates.